Welcome to Atlas Feed Mills
Bienvenue! Welcome to our website! We've created this site for our customers, faithful and new, as a convenient way to get to know all of what we offer. However, we like to consider ourselves "old school", so feel free to give us a call or drop by the store with any questions or suggestions on how we can serve you better. Clicking on our Contact tab will give you all of the information necessary to get in touch with our team.
Merci Beaucoup (Thank you so much) for shopping local since 1949!
For More than 60 years, Atlas Feed Mills has served the people of St. Martin Parish and the surrounding areas. Originally a custom grinding operation, the family-owned mill has evolved into a feed manufacturing facility with more than 100 different formulas and custom mixes available for all major species of animals.
Servicing mostly local needs in the beginning, Atlas Feed Mills has since extended its service area to include most of South Louisiana and Mississippi.
Experience is what counts: our core staff has over 100 years of combined experience in sales, feed formulating, and feed mixing, resulting in the best possible nutrition and mix in each and every bag.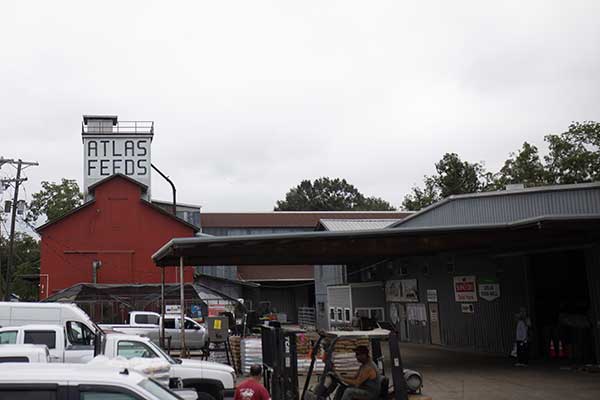 What Our Customers Say

Melody C.
We buy a ton of their own mixed pig feed monthly and we're very pleased with how our pigs have been doing on it for almost 6 months now. The price is unbeatable for this specific product.

Jack H.
Love the process of getting chickens and farm animals. Great staff!!

Mark M.
What a great experience – i went in not expecting the level of service i received , thanks for all the great advice on my chicks purchase- will be back over and over ! Barbara was exceptional

Clark R.
Have been dealing with Atlas for over 40 years and they are always professional and courteous awesome company.